How To Write An Outstanding Persuasive Essay
Find a Good Topic
To write an effective argumentative essay, you must first find a topic that you are interested in. But it can't be just any topic. It has to be one where there is no absolute answer but only two sides of an issue. For example, you couldn't make an argumentative essay about how 2+2=4.
You need to pick a topic with two conceivable sides that you can find substantial evidence for. Another important aspect in topic picking is that it must be one that is narrow in focus. For example, you can't write an argumentative essay about World War II. It's just too big. You would need to narrow it down to a topic without clear answers. For example: Was the bombing of Hiroshima and Nagasaki necessary?
A List of Good Argumentative Essay Topics
Literature: (Character) has a conscience. (Author's) portrayal of (women, men, children, society) was unfair. (Book) is an exemplary model of this genre.
History: (Country x) (person) was correct in (diplomatic relations, declaring x war, etc.) Ivan the Terrible wasn't really terrible.
Social: Euthanasia is immoral. Hate groups should be protected by free speech. The war on drugs should be ended.
Health: Second-hand smoking does not cause lung cancer. Listening to classical music increases a baby's intelligence. Women should have children at a younger age.
Look at Both Sides of an Issue and Take a Position
After you have found your topic, you need to look at both sides of an issue and make bullet points for both. Begin with the side that you will eventually argue against. This will normally help you to think of more strong points to support your argument.
For Example:
Driver's ed. should be mandatory
Against:
It's usually early on Saturday mornings
Some students have other activities at that time, like sports
It should only be on an elective basis.
For:
If people are required to take driver's ed., they will get more practice with a qualified instructor before they get a driver's license.
They will have over two months of instruction in a classroom about safe driving.
Students who take driver's ed. have on average fewer accidents.
Get Evidence for Both Sides
Once you have picked an appropriate argumentative essay topic, you need to gather proper evidence. This means not just doing a Google or Wikipedia search. While these are great tools to use in the preliminary stage, you need more reputable sources to write a convincing argumentative essay. Look up scholarly essays and books on your topic and use them in your essay.
Begin Writing
Once you've gathered all your evidence, you are ready to begin writing. After you're done writing the body, wrap up both arguments while clearly favoring one over the other.

Argumentative Essay Outline
The opening paragraph should give background information on the topic. Then give your thesis statement about what you are going to argue for in this essay.
Body of the argumentative essay begins by providing all of the counterpoint's valid points, arguments, and evidence. After this, reveal your point of view and support it with evidence.
Closing of the argumentative essay should wrap up the argument. It should also convince the reader that the chosen point is the correct one over the counterpoint based on your previously-mentioned evidence.
Helpful tips for writing a successful persuasive essay
Last updated: May 19, 2016
A persuasive essay uses reason to demonstrate that certain ideas are more valid than others in academic writing. The purpose of such an essay is to encourage readers to accept a particular viewpoint or act in a particular way. A persuasive essay must be based on sound logic and must contain factual evidence to support the argument.
How to write a persuasive essay
Take a stance. What do you think about the issue? What side will you take? Be aware of any prejudices you might have that could color your argument. What resolution will you suggest?
Know your audience. Determine if your audience will agree with your position and why they may not. You must be able to understand both sides of the issue in order to successfully argue your point of view.
Thoroughly research your topic. The point of a persuasive essay is to provide detailed and compelling evidence—you should be able to disprove the opposing argument. It will likely be necessary to undertake library-based research in order to accomplish this.
Think about the structure of your essay. Determine what evidence you will include and the order in which you will present it. Remember, it must be logical.
Support your argument. Use hard facts. You can gather these from your research, observations, or personal experiences. But be careful! In order to avoid plagiarism, you must cite your sources. You should always use verifiable statistics. It is important to be able to back up your argument with data. In order to further strengthen the argument in your persuasive essay, try using one or two direct quotes from experts on the topic. Finally, provide meaningful examples to enhance and clearly illustrate your argument.
How to organize your persuasive essay
The introduction.The introduction in your persuasive essay should grab the readers' attention and provide background information about your subject. It should end with a clear statement of your thesis.
The body. The body should consist of all the arguments that support your thesis. Each paragraph should focus on one particular point. Next, include one or two paragraphs to succinctly explain and refute the most compelling opposing argument.
The conclusion. The conclusion should restate the main argument and supporting points. After all, the point of a persuasive essay is to convert your readers to your point of view.
Take a breather
Take a day or two off. Let your essay sit and your mind rest. Then, read your persuasive essay with fresh eyes. Ask yourself if your essay is logical and convincing. Will your readersbe persuaded by your argument? Did you provide enough evidence in the way of facts, statistics, quotes, and examples?
Want to learn more? Scribendi.com's ebook How to Write an Essay in Five Easy Steps will provide you with the knowledge and tools you need to confidently write essays.
Image source: pinkypills/BigStockPhoto.com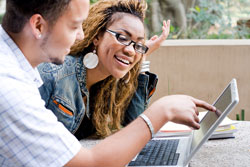 Related Articles

How to Improve Essay Writing Skills
If you've been told time and time again that you express great ideas in your essay writing but your writing needs polishing, you aren't alone. The following tips will help improve your writing skills and turn you into a great writer.

How to Write an Outline
You've come up with the perfect thesis or essay topic, you've done plenty of research, and know everything that there is to know about your topic, and yet you can't seem to put pen to paper. This is where an outline comes in.

Seven Ways to Stay Awake and Alert
Have you ever found yourself in a situation where you just could not stay awake? Let's face it, we've all been there. We have compiled a short list of reasonable ways to stay awake during life's less-than-exciting moments.
Back to Advice and Articles